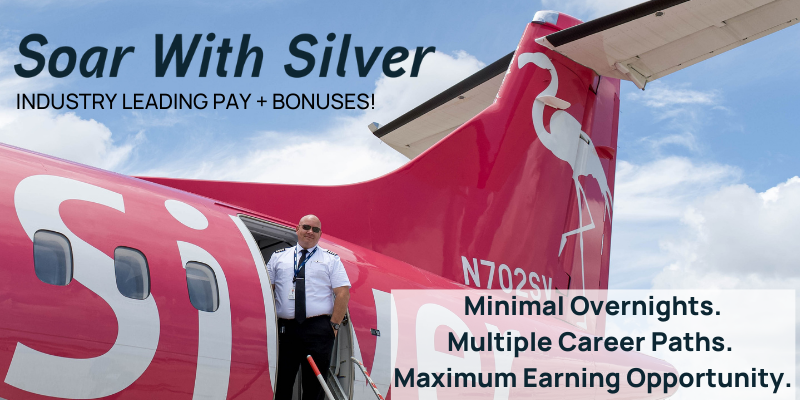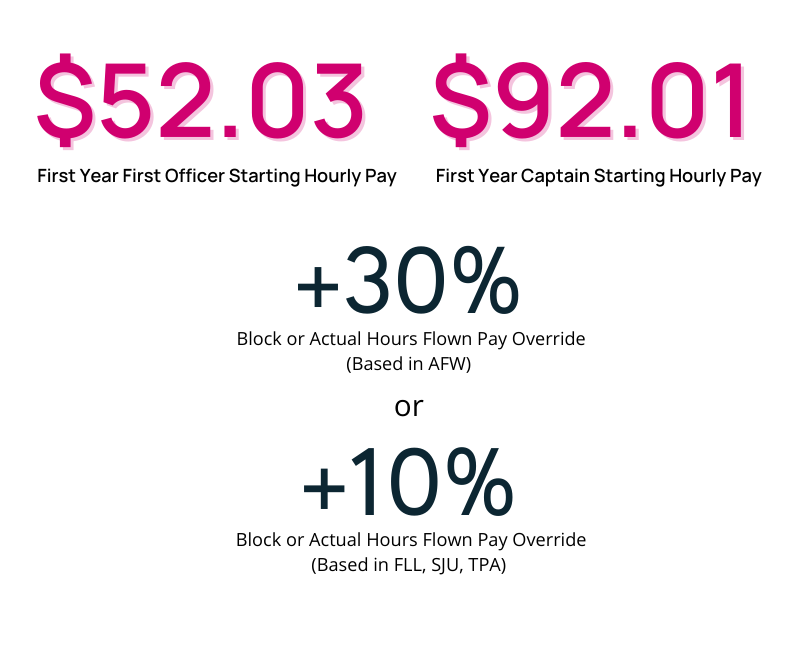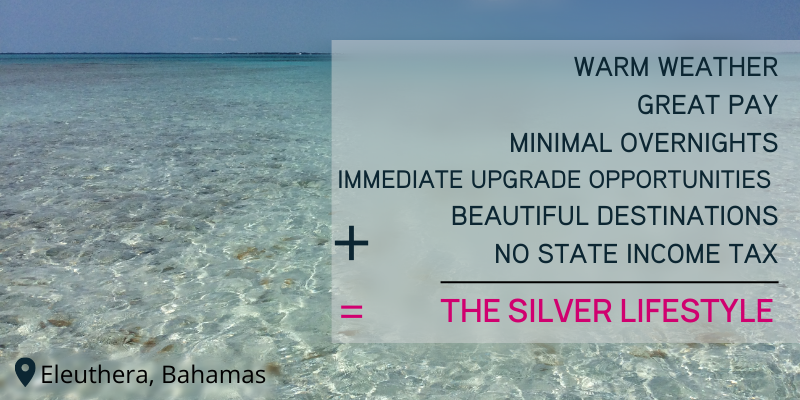 1ST YEAR FIRST OFFICER
| | | |
| --- | --- | --- |
| | AFW | FLL/TPA/SJU |
| Credit hours | 85 | 85 |
| Block hours | 65 | 65 |
| PAY RATE* | $52.03 | $52.03 |
| Block hour override rate | $15.61 | $5.20 |
| Credit hours pay | $4,423 | $4,423 |
| OVERRIDE PAY* | $1,015 | $338 |
| MONTHLY ALLOWANCE* | $300 | - |
| Monthly gross pay | $5,737 | $4,761 |
| Annualized pay | $68,846 | $57,129 |
| Plus High Season bonus | $4,000 | $4,000 |
| Plus up to 5 sick/personal days sold per quarter* | $5,203 | $5,203 |
| Yearly comp | $78,048 | $66,331 |
*NEW as of 6/1/2022
1ST YEAR CAPTAIN
| | | |
| --- | --- | --- |
| | AFW | FLL/TPA/SJU |
| Credit hours | 85 | 85 |
| Block hours | 65 | 65 |
| PAY RATE* | $92.01 | $92.01 |
| Block hour override rate | $27.60 | $9.20 |
| Credit hours pay | $7,820.85 | $7,820.85 |
| OVERRIDE PAY* | $1,794 | $598 |
| MONTHLY ALLOWANCE* | $300 | - |
| Monthly gross pay | $9,914 | $8,418 |
| Annualized pay | $118,968 | $101,016 |
| QUARTERLY CAPTAIN RETENTION BONUS* | $16,000 | $12,000 |
| Plus High Season bonus | $4,000 | $4,000 |
| Plus up to 5 sick/personal days sold per quarter* | $9.201 | $9,201 |
| Yearly comp | $148,169 | $126,217 |
*NEW as of 6/1/2022
NEW - $10,000 CAPTAIN BONUS
NEW - $30,000 LONGEVITY BONUS
(After 2 years as Captain in addition to Quarterly Retention Bonus)
NEW - PLUS $40,000 LONGEVITY BONUS
(After 5 years as Captain in addition to Quarterly Retention Bonus)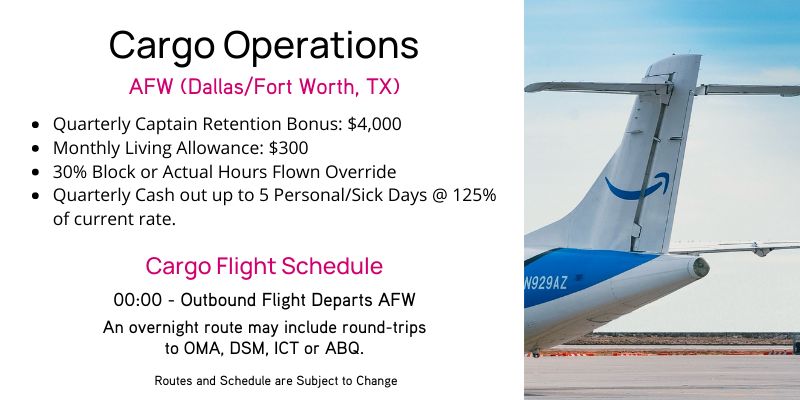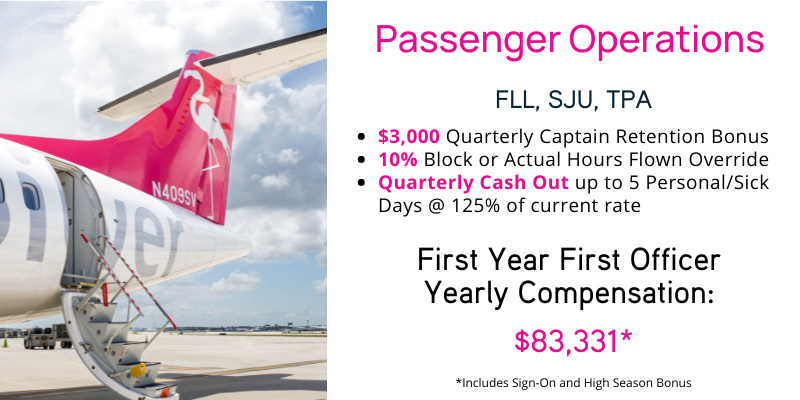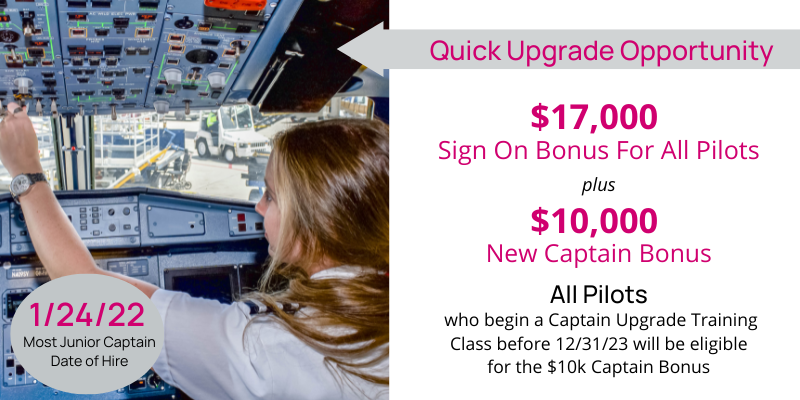 Apply Directly! Easy Online Application!
No Fees or Third Party Apps to Complete!
Direct Entry ATR Captains
Silver Airways is NOW HIRING Direct Entry Captains! Bases in FLL, TPA, SJU, AFW.
Preferred Qualifications
EFIS/FMS Experience
Instructor/Check Airman Experience
Immediate Entry to the Left Seat!
New Hire Pilots with 1000 hours of 121 PIC may enter as Captain on Day One
Apply Here to be a Captain at SJU, TPA or FLL!
Minimum Requirements
Legally eligible to work in the United States
ATP Certificate - Multi-Engine Land, Instrument Ratings
1000 hours 121 PIC
Current FAA First Class Medical Certificate
Valid, Unexpired Passport
FCC Restricted Radiotelephone Operator Permit
Dispatchers
Mechanics
Ramp Agents
Corporate Jobs and More!
ATR First Officer
Minimum Requirements:
1,500 hours total time
Commercial Pilot Certificate - Multi-Engine Land, Instrument Ratings
ATP or R-ATP minimum flight times
FCC Restricted Radiotelephone Operator Permit
FAA First Class Medical Certificate
Valid passport with unrestricted travel

Australian E3 Visa ATR First Officer
Minimum Requirements:
Australian Citizen
Commercial Pilot Certificate - Multi-Engine, Land, Instrument Ratings
ATP or R-ATP Minimum Flight Times
Current FAA First Class Medical Certificate
Valid, Unexpired Passport
FCC Restricted Radiotelephone Operator Permit
Preferred Qualifications:
ATP Multi-engine Land
2000 Hours total time
Part 121 Experience
EFIS/FMS Experience
Instructor/Check Airman Experience